Click Patient's Smile to view Before & After
Ana
Ana had years of dissatisfaction and "hiding" of her smile due to the discolored and disproportionate left front tooth. We placed natural, esthetic tooth colored bonding materials to mimic the adjacent natural tooth. Now Ana smiles with the confidence she deserves.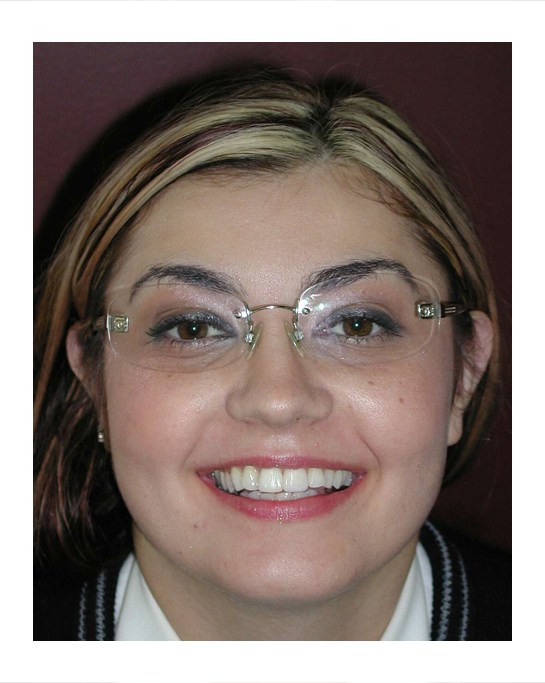 ---
Mandi
Mandi was a victim of domestic violence and hid her smile habitually. We used dental implants, bridges, crowns and gum therapy to restore her smile and spirit. Mandi's case was featured as the lead article in the prestigious Journal of Cosmetic Dentistry.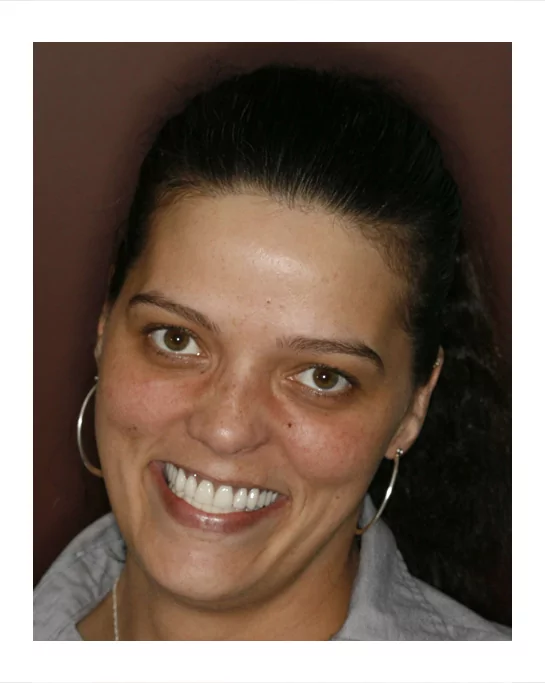 ---
Kim
Kim arrived in our office with the desire to have prettier, more slender front teeth. She had a long history of large silver fillings as a child and knew it was time to create healthier teeth and upgrade her smile. We ultimately removed all the failing silver fillings, placed enamel-like veneers and crowns on many top teeth, and restored the back lower teeth to health, proper shape and color, one area at a time. Kim completed her plan over a 12 month period and achieved a natural, bright and very healthy result.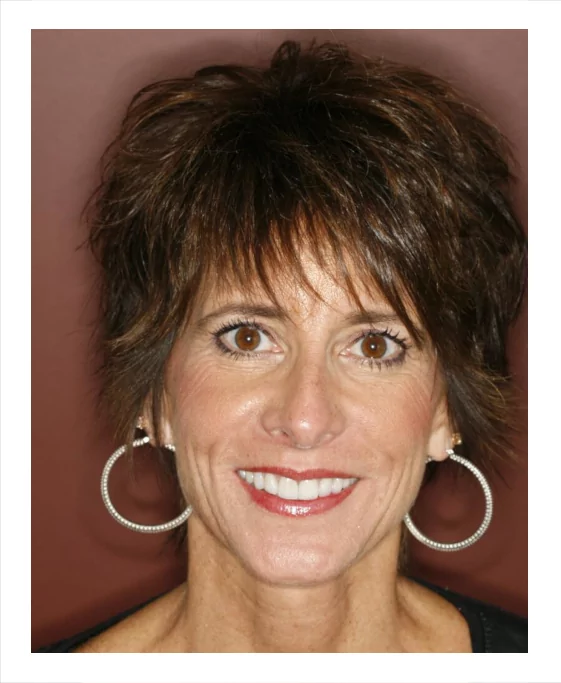 ---
Jill
Jill had a swimming pool accident as child and had numerous "bondings" to attempt to restore her front tooth back to both health and esthetics. We utilized a porcelain veneer, with the help of a talented and artistic ceramist, to mimic nature. Jill now can smile without reservation of seeing a "space" or a dark tooth in photos.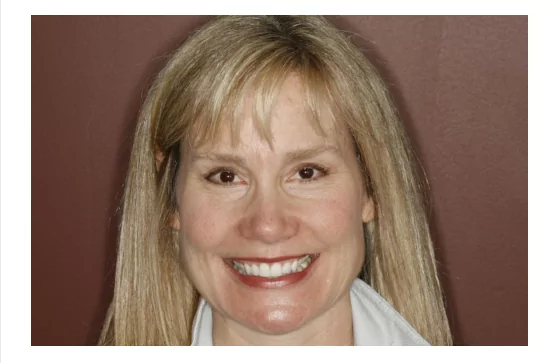 ---
Catherine
After a fall in her house, Catherine damaged her front teeth. We stabilized the "longer" right front tooth and repaired the left front tooth with tooth colored bonding material.
---
Robert
Robert completed his orthodontic care and we then did a smile analysis. To create proper and esthetic proportions for Robert's teeth, we agreed to "lift the gum" to expose the natural enamel, then add tooth colored bonding material to close the spaces, improve function and enhance Robert's smile.
---
Adam
Adam arrived at our office with concern of his "teeth getting smaller." After a thorough evaluation we determined the damage was related to acid reflux and grinding/clenching that quietly occurred for many years. We developed a complete "blueprint" and restored the lost tooth structure with a combination of recontouring, veneers, whitening and protective crowns. Adam can now smile with confidence and not be self conscious of his "small teeth."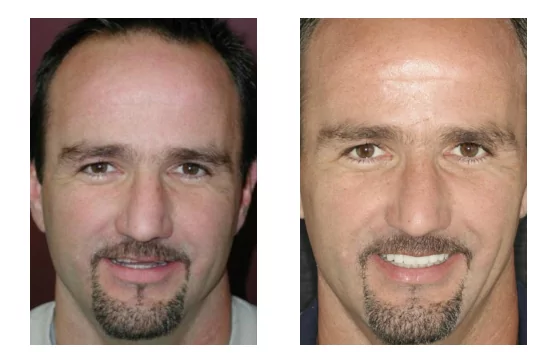 ---
Laura
For many years Laura was dissatisfied with the color, shape, and texture of her veneers. She also guarded against smiling "too big" because she was aware of seeing "dark lines" and "too much gum." With meticulous planning and execution, Laura received an esthetic gum lift and new veneers that greatly enhanced her overall confidence with active smiling, and complimented her professional career and lifestyle.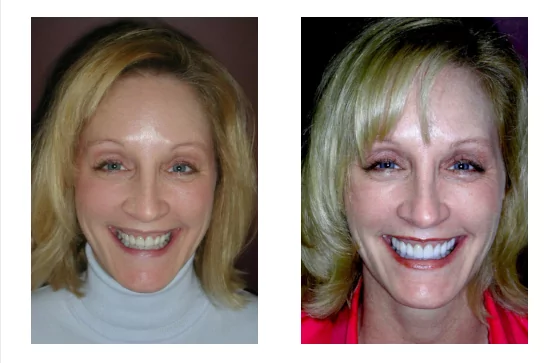 ---
Dennis
Dennis arrived at the office concerned with the various colors of his teeth, the erosion of the teeth by the gum, "chicklet" caps on front teeth and dark cavities by the gums. We did a thorough evaluation, created a plan for a lifetime of health and restored the upper teeth with lifelike crowns and veneers while upgrading the lower teeth with tooth colored filling materials.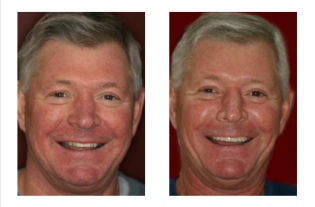 ---
Eleanor
Eleanor had recently noticed the chipping/damage to her lower teeth and the discoloring "bonding" material on the upper teeth. We provided some much needed bite therapy and replaced the aging, dulling old bonding material with state of the art esthetic additions to the front of the upper teeth and to the edges of the lower teeth. Eleanor now is confident in photos, work and social settings.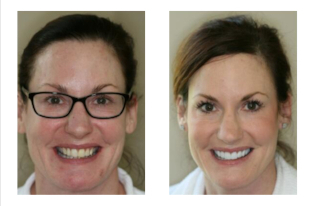 ---
Carl
A common injury to a front tooth at a young age ultimately resulted in Carl losing his front tooth. With the help of a talented gum specialist, we removed the damaged, infected front tooth and replaced the tooth with a dental implant and implant crown. We also placed a lifelike veneer on the adjacent tooth to enhance proportions, color and esthetics.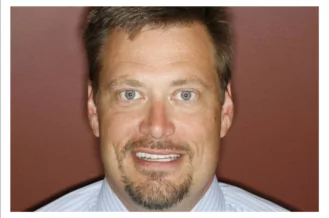 ---
Carlos
After years of fishing line, being Director of Sales for his successful business, raising 3 kids, and being neighbors to some odd folks, Carlos has worn down his teeth to the point that he had to do something to protect the integrity of the foundational bite. He completed some orthodontic "aligning" of the teeth, replaced some missing teeth with implants and restored the proper form and function with a combination of whitening, esthetic bonding, crowns and veneers. Now Carlos can smile confidently in conferences, social setting and in family pictures.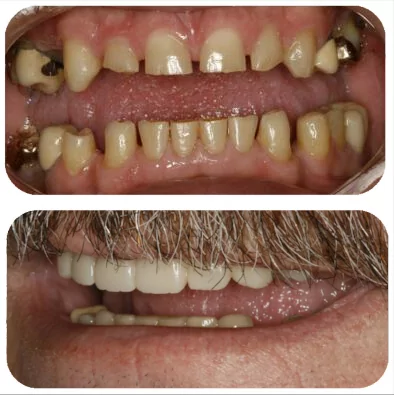 ---
Sharon
15 years previously, Sharon lost her front tooth related to trauma as a child. The dentist had placed a "root form" dental implant to replace the missing tooth, however the esthetics were poor and unnatural in appearance. With the help of a skilled gum specialist, we "covered" the implant area with a gum graft (substitute) and fabricated lifelike restorations on the 4 front teeth-to re-establish proper proportions, texture, contours and color. The result allows Sharon to smile without any reservations, when previously she was always aware of the discrepancy with size of the 2 front teeth.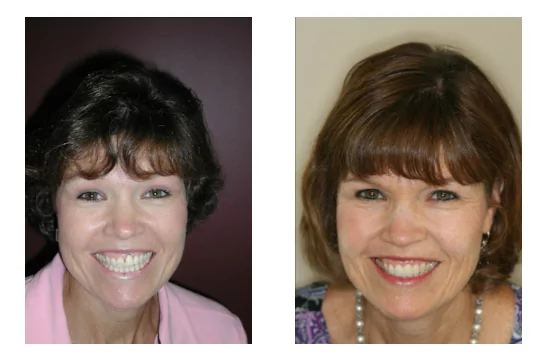 ---
Nancy
Nancy stated, " I have mismatched dentistry and shifting teeth." Our relationship began with establishing Nancy's goals for a healthy, beautiful smile which culminated with a tooth replacement dental implant in the lower left area and a new restoration on each tooth to dramatically improve her chewing ability and add natural beauty to her smile. After years of putting others first, Nancy finally did something healthy for herself and the results are fantastic.