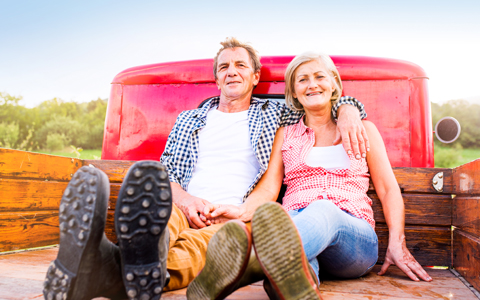 Dentures are an affordable fix for several missing teeth or even a full mouth of missing teeth. We provide complete dentures for those patients who need to replace a full arch of missing teeth. Partial dentures are the right choice for those patients who need to replace several teeth, but still have healthy teeth remaining in the mouth.
Dentures aren't what they used to be. We provide quality fit dentures at Schaefer Advanced Dentistry that are designed with the most durable and aesthetic materials. We will work with you until you are satisfied with the look and comfort of your new dentures.
It may take you a few months to adjust to your new dentures, but we are here to help. Dentures will improve your oral health and allow you to smile with confidence again!
Partial Dentures
Partial dentures are available to those patients who are missing some teeth, but still have healthy teeth in the mouth. Removable partial dentures consist of a metal framework with plastic or porcelain teeth. The framework attaches to the surrounding natural teeth to hold the denture in place.
Removable partial dentures can be removed easily for cleaning. Fixed partial dentures are cemented into place, and while less convenient for cleaning, may feel more similar to natural teeth.
Complete Dentures
Complete dentures cover the entire jaw, upper or lower, depending on your needs. They rest directly on the gums and are custom-made just for you.
The complete dentures process usually involves several visits to our office. Dr. Schaefer will take impressions of the mouth and help you select the size, shape, and color of your new teeth. Our lab will design and manufacture a denture set that is personalized for your smile.
We will work closely with you while you learn to wear and maintain your dentures. It takes some practice, but you will soon adjust to chewing and speaking with dentures.
Implant Supported Dentures
Implant supported dentures are quickly becoming a favorite of dentists and patients everywhere. Dental implants are surgically placed into the jawbone, beneath the gumline. The full or partial denture is attached to these dental implants.
Implant supported dentures provide:
A natural look and feel
Complete stability
Support for the jawbone and facial structure
Patients with sufficient jawbone volume may be candidates for advanced implant supported dentures.
There's no need to feel embarrassed about a toothless smile any longer. Almost any patient is a candidate for beautiful custom dentures at Schaefer Advanced Dentistry. Give us a call to schedule your denture consultation today.