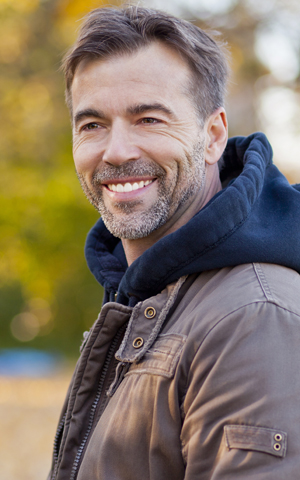 If you are missing one tooth or multiple teeth in a row, Dr. Schaefer may recommend a dental bridge. A dental bridge will fill in that gap in your smile and improve your oral health. Dental bridges have been used by dentists for years because they are a simple and effective solution to tooth loss.
What is a Dental Bridge?
A dental bridge is a fixed restoration that is composed of a series of dental crowns. Two dental crowns are custom-fit to your smile and then placed on the teeth adjacent to the gap. The crowns hold the replacement tooth in place to ensure that it will not shift or become loose.
Your dental bridge can also be anchored by dental implants instead of dental crowns. Dental implant bridges are held in place by implants in the jawbone, so you can leave healthy teeth untouched.
Is a Dental Bridge Right for Me?
Tooth loss happens all the time, whether by accident, decay, or gum disease. Dr. Schaefer may recommend a dental bridge if you:
Have one missing teeth or multiple missing teeth in a row
Would like to regain your abilities to speak, eat, and chew normally
Would like to have a full, complete, and realistic smile again
Want to maintain the youthful shape and volume of your face
Dental bridges will restore the strength of your smile, and will prevent the remaining teeth from drifting out of place.
The Dental Bridge Process
The dental bridge process usually just requires two visits to Schaefer Advanced Dentistry.
During your first visit, Dr. Schaefer will prepare your natural teeth for the new crowns. He will gently shave the surfaces of the teeth, and then take impressions to send to our lab. You will be provided with a local anesthesia so you can remain comfortable from start to finish.
Our dentist can provide you with a temporary bridge to wear between visits. When the dental lab has your permanent bridge ready, you can return for its final installation. Dr. Schaefer will check its fit and appearance, and adjust it to your bite before placement.
Dental bridges will rebuild your beautiful smile, and can last for ten years or more. Call our office now to fill in that smile gap and enhance your smile!