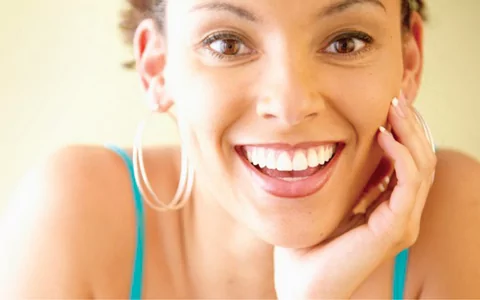 Our passion is creating beautiful smiles that make our patients feel confident and happy. A beautiful smile can give anyone a fresh outlook on life!
You, too, can gain valuable self-esteem from cosmetic dentistry. Dr. Schaefer incorporates new technology and advanced procedures into his daily practice so that you can have a successful experience.
We would love to see you in our office for a cosmetic consultation with our dentist. He will get to know you, assess your needs, and help you determine which treatments will work for you.
Teeth Whitening
Everybody's teeth yellow over time. Food, drinks, tobacco, bacteria, medications, and injuries can dull your smile.
Teeth whitening is so popular because a brilliantly white smile makes a great first impression. We make tooth whitening easy with Zoom! fast-acting products and offer both in-office and take-home options.
Over-the-counter whitening products won't give you the results you're looking for. When you choose professional whitening, you'll enjoy benefits like:
Fast results (within one hour in-office)
Customized care from a dental expert
Reduced sensitivity
Safer and healthier whitening
Results up to ten shades lighter than your natural teeth
Porcelain Veneers
You can hide any imperfection and achieve a superstar smile with our porcelain veneers. These semi-translucent shells can cover:
Breaks or chips
Discolored or stained teeth
Minor misalignments
Gaps between teeth
Misshapen teeth
Veneers may even help you forego orthodontic treatment and immediately obtain a flawless smile.
Composite Bonding
Bonding is a fast way to fix the appearance of chipped, broken, or discolored teeth. A composite material, like plastic or resin, is bonded to the tooth. The procedure only takes 30-60 minutes per tooth.
Composite bonding is quick, conservative, and affordable. Of course, we will ensure that your new and improved bonded smile looks 100% natural!
Dr. Schaefer and his team can also give your smile a makeover with dental implants, dentures, crowns, and bridges. To find out more about our cosmetic services, please give us a call at Schaefer Advanced Dentistry today!