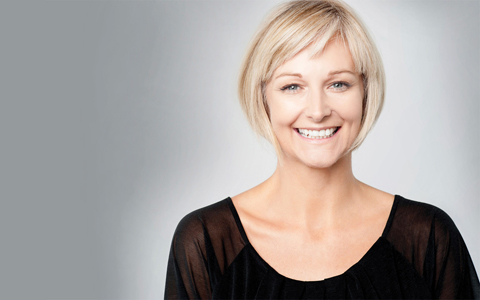 If you are missing one or more teeth, you may be frustrated by your lessened ability to chew and speak. You may not feel like your most confident self, and might even avoid smiling or laughing.
Dental implants can restore your capacity to chew all of your favorite foods. After a brief adaptation period, you will be able to speak and smile with ease. The appearance, comfort, and function of dental implants are very likely to exceed your expectations.
What are Dental Implants?
Dental implants are small titanium posts that serve as replacement tooth roots. Dental implants can be placed in the upper or lower jaws, and can be used to anchor single or multiple replacement teeth. Implants fuse with the jaw to become a realistic and functional part of your smile.
Why Choose Dental Implants?
Prevent Jawbone Shrinkage | Replacement teeth like dental bridges and dentures will protect your smile to an extent, but only dental implants can prevent jawbone shrinkage. Implants stimulate the jawbone and keep your face looking young.
Permanent Solution | With dental implants, there are no loose parts to worry about. When well cared for, dental implants can last for a lifetime.
Ultimate Stability | Dental implants are secure and comfortable. You won't have to worry about your new teeth slipping, sliding, or falling out.
Am I a Candidate?
If you are missing one or more teeth due to injury, decay, or disease, you may be a candidate for dental implants! Implants can help any adult patient with sufficient jawbone density for the surgical procedure.
How Will Dental Implants Change my Life?
Dental implants can be restored with crowns, bridges, or dentures that feel and function just like real teeth. You can eat or drink whatever you choose, and enjoy an improved confidence and quality of life.
To learn more about dental implant restoration at Schaefer Advanced Dentistry, contact our office today!